France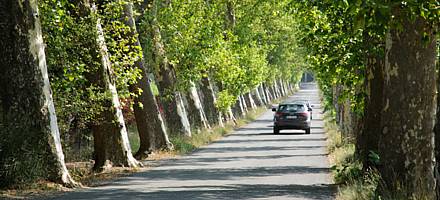 Regulation on the French roads
Driving licence
with a driving licence delivered by a state member of the European Union or a state of the European Economic Area.
with a driving licence delivered by any country outside the European Union or the European Economic Space.
For more informations, please consult The official website of France
Speed limits
Driving speeds are limited throughout the French road network. These regulations apply to all drivers and all vehicles. EU driving licence holders exceeding the speed limit by more than 40km/h may have their licenses confiscated on the spot.
Maximum speed limits by weather condition

| | | | |
| --- | --- | --- | --- |
| | Dry weather | Wet weather | Visibility less than 50 m |
| Highway | | | |
| Dual carriageway | | | |
| Other road | | | |
| Built-up area | | | |
Drink driving limit
France has very strict drink driving laws. The French drink-driving limit is 50mg of alcohol in 100ml of blood.
Sanctions and Penalties :
Drivers found with between 50mg and 80mg of alcohol in your blood can be fined € 135 (£ 112). The driver will not be permitted to continue with his journey until the alcohol level in his bloodstream falls below the legal limit.
If the breath-test reveals that a driver has more than 80mg of alcohol, it is considered as a major offense. The driver could be fined to € 4,500 (£ 3,744) with his driving licence confiscated immediately for three years and a possibility up to two years emprisonment.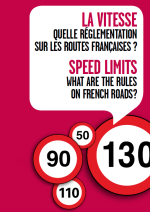 To find out more about the regulations and the penalties, download the folder speed limits (pdf).
Safety equipement on board
GB sticker or europlates
Reflective jackets
Warning triangle
Warnings
It is illegal to use a mobile phone while driving, even if you have hands-free. Drivers caught using a mobile phone while on the road are liable to an on-the-spot fine of € 130.
Obligations
Seatbelts must be worn at all times, by both adults and children, and both in the back and front seats.
Safety helmets are compulsory for drivers and passengers of mopeds and motorcycles.
Focus
Priority to the right : "Priorité à droite"
This feature of historic French driving law causes much confusion for foreign drivers across France. When applied the problem is this : when driving along a road, anyone joining from your right hand side has priority over the main carriageway on which you are driving. They do not have to stop, instead you have to slow and give way to the joining vehicle, no matter the size of the adjoining road.