The traffic on Bison Futé website
Move now
The Traffic Now map displays on the National Highway System:
* all events impacting traffic on main roads (accidents, traffic jams, works, closed roads, etc.);
* The real-time traffic situation at the major urban centers, developed from counting stations located under pavements. They allow to count in real time the number of cars passing at a specific point.
Traffic card information is listed using the following color code: green = fluid, orange = dense traffic, red = saturated traffic,
The cities concerned are Bordeaux, Grenoble, Lille, Marseille, Paris-Ile-de-France, Rennes, Lyon, Strasbourg, Mulhouse, Metz, Nancy, St. Etienne, Rouen, Limoges, Brive, Caen, Toulouse and Nantes.
Prepare your travels

Be aware of the forecast events that could disrupt traffic in the coming days (especially the planned construction sites and road closures). The consultation can be done for different periods: "tomorrow" or in "the next 7 days"

You can also see traffic forecasts for the whole year thanks to the Bison Futé calendar, as well as detailed forecasts 15 days before a colorful weekend: What will be the overall level of congestion expected compared to "usual" traffic?
Directly access the traffic map of your city
The "Traffic Maps" tab allows direct and large-format access to the traffic status of major cities.
How "Traffic" pages work
The pages "Now", "Tomorrow" and "Next 7 days" all articulate in the same way.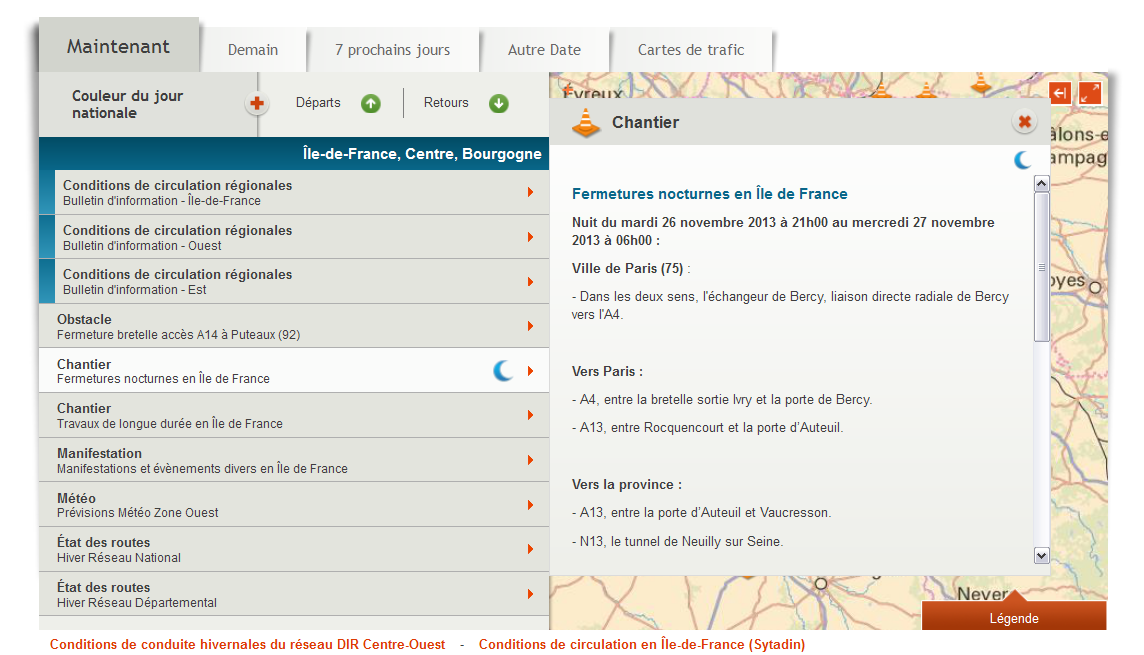 On the whole page, the map has 6 zoom levels :
whole France ;
Zones corresponding to French quarters ;
Regions ;
Departments ;
small scale agglomerations;
large scale agglomerations.
The map can be enlarged, either by taking the place of Alerts

, or in full screen

. Therefore, only geolocated event information will remain accessible.
At the bottom of the page, you will find a "Alert" banner that displays the list of events and their descriptions, filtered according to the area displayed on the map and the selected zoom level.
A click on the orange arrow

allows to visualize the contents of the release and to download possibly the attachments.
Below the map, a list of filtered links based on the area displayed on the map and the selected zoom level is offered for access to additional road information to that of Bison Futé.
To stay in touch with Bison-Futé
You can find all this information through our mobile website or download the Bison Smart mobile application.