The current means of information
The main objective of the road information is to give drivers easy access to both current and forecasted road conditions.
Differents means are available :
107.7 FM is the unique radio frequency all over France dedicated to broadcasting road information. Using RDS protocol, it is capable of interrupting at any time the radio programme (tuned to whatever Radio France stations) or the CD player in order to switch automatically to 107.7 allowing then the broadcasting of special information relevant to the vicinity where drivers are. Regular informations are also provided : a situation report about road conditions every quarter of an hour, news from "France Info" twice in hour and also conversations about tourist informations. All these programmes are spoken in English since the opening of the Channel Tunnel ;
Variable message signs located at relevant places display real-time information about disturbances (roadworks, accidents, abnormal traffic, ...), travel times, road surface conditions and weather environment (wind, rain, snow). Some of the warning messages from 107.7 FM are also shown on the VMS ;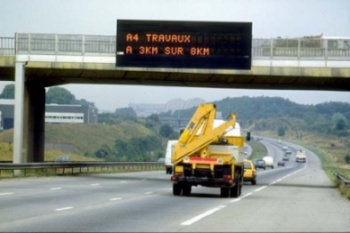 Onboard guidance systems (GPS Global Positioning System) which are able to display real-time road informations ;
Smart-phones : drivers can now prepare their journey using the Bison-Futé mobile website updated with traffic conditions and news about roadworks across France ;
Dynamic traffic management to improve travel conditions for all road users, increase safety and for a better share of the road infrastructures.